Exclusive Sneak Peek of WILD: Part 1 and Artist Talk with Jeremy McQueen
March 4, 2021 @ 1:45 pm

-

2:45 pm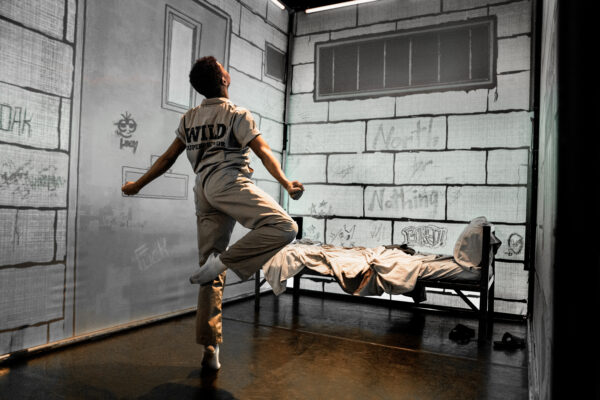 Photo Credit: Elijah Lancaster in Jeremy McQueen's "WILD: Act 1", photo by Matthew Murphy
Exclusive Sneak Peek and Artist Talk with Jeremy McQueen

The Black Iris Project


WILD: Act 1
Thursday, March 4, 2021: 1:45-2:45pm
This special event is only open to John Jay Students, Faculty, and Staff. Please use your John Jay email to register in advance.
Soros Justice Fellow and Emmy-nominated choreographer Jeremy McQueen, founder of The Black Iris Project, presents a sneak peek into his new project, WILD. A groundbreaking new feature-length dance film, WILD explores systemic racism in the juvenile justice system and the effects of isolation and imprisonment on childhood development.
This John Jay exclusive behind-the-scenes look at the making of WILD: Act 1 will include a discussion with McQueen and his collaborators, led by Camille Massey, J.D., Founding Executive Director of the Sorensen Center for International Peace and Justice at CUNY Law School. This special event is only open to John Jay Students, Faculty, and Staff.
By exclusive arrangement, the first 40 John Jay registered attendees will receive a free ticket to the premiere screening of WILD: Act 1 in March 2021.
WILD: Act 1 is co-commissioned by the Gerald W. Lynch Theater and CUNY Dance Initiative.
MORE ABOUT WILD
Inspired by Maurice Sendak's classic children's book, Where the Wild Things Are, WILD follows the journeys of several young Black and brown men as they struggle to break free from the systemic injustices that permeate their communities. WILD is propelled by dance and movement, in tandem with personal accounts, visual art, and original music, to transform the young men's individual stories into a powerful reclamation of time, unity, space, and Black culture. WILD: Act 1 is filmed and edited by Black Iris Project collaborator Colton Williams, and features dancer Elijah Lancaster (Ailey II).
Jeremy McQueen (Director) is an award-winning choreographer, dedicated to story-telling rooted in experience and social engagement. His work aims to create spaces of comfort, solace, and connection through reflection—a sharing of observations of what is going on around him.
Born and raised in San Diego, California, McQueen is a 2008 graduate of The Ailey School/ Fordham University, B.F.A. in the dance program and has also trained in the schools of American Ballet Theatre, San Francisco Ballet, and Alonzo King's LINES Ballet. McQueen has performed in Broadway's Wicked and The Color Purple, the Radio City Christmas Spectacular, and numerous Metropolitan Opera productions.
McQueen is a 2020 Emmy® Award-nominated director/choreographer, a 2019 recipient of the Bronx Council of the Arts' BRIO (Bronx Recognizes Its Own) Award, a 2013 recipient of the Joffrey Ballet of Chicago's Choreographers of Color Award [Winning Works], and two-time finalist of the Capezio Award for Choreographic Excellence (2012 & 2013). McQueen was recently named a 2020 recipient of the Soros Justice Fellowship from Open Society Foundations and is the only choreographer to receive the fellowship since the fellowship's inception in 1997.
L. Camille Massey, J.D. (moderator) is Founding Executive Director of the Sorensen Center for International Peace and Justice at CUNY Law School. She previously served as Vice President for Global Strategy and Programs at the Council on Foreign Relations in New York and has served in senior positions at Human Rights First and the International AIDS Vaccine Initiative, working in 23 countries with a concentration in Africa and Asia. She founded Cue Global, a consulting business that designed and implemented strategic policy, legal, advocacy, communications, and resource mobilization plans for global organizations. She was appointed a Human Rights Fellow at The Carter Center in Atlanta and worked with musician Peter Gabriel to help establish WITNESS, an international human rights organization supporting local groups in the use of video.
As a long-time board member of Breakthrough, Massey works on projects worldwide to stop violence against women and girls. She also serves on the board of Outright Action International and the advisory boards of Global Witness, the Center for Business and Human Rights at New York University and House of SpeakEasy, a literary nonprofit organization. Massey earned her J.D. from CUNY School of Law, and a B.S. from Syracuse University's Newhouse School where she currently sits on the Advisory Board. She is a member of the Council on Foreign Relations, the American Bar Association, and the New York City Bar Association.
WILD: Act I is co-commissioned by the CUNY Dance Initiative (CDI) and the Gerald W. Lynch Theater at John Jay College, with support from The Howard Gilman Foundation, The Mertz Gilmore Foundation, Jerome Robbins Foundation, the SHS Foundation, the Harkness Foundation for Dance, and Dance/NYC's New York City Dance Rehearsal Space Subsidy Program, made possible by The Andrew W. Mellon Foundation. CDI is produced by The Kupferberg Center for the Arts at Queens College.
Cultural, informational and visual arts presentations are made possible in part with funds allocated by Council Member Helen Rosenthal and the New York City Council.