Welcome to the Gerald W. Lynch Theater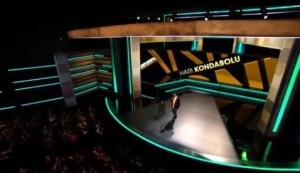 Since opening its doors in 1988, the Gerald W. Lynch Theater has been an invaluable cultural resource.  The Theater is a member of CUNY Stages, a consortium of 16 performing arts centers located on CUNY campuses across New York City and the CUNY Dance Initiative.
The Theater is home to the Lincoln Center's Mostly Mozart Festival & White Light Festival, as well as the New Yorker Festival, Mannes Opera, the World Science Festival, and the revival of Mummunschanz. The Theater has hosted live and recorded events including David Letterman's My Next Guest Needs No Introduction, Inside the Actor's Studio, Carnegie Hall Neighborhood Concerts, Comedy Central Presents one-hour specials, the American Justice Summit, the NYC Mayoral Democratic Debates, and the launch of Jay-Z's REFORM initiative. The Theater welcomes premiere galas, conferences, international competitions, and graduations.
John Jay College of Criminal Justice of The City University of New York, an international leader in educating for justice, offers a rich liberal arts and professional studies curriculum to upwards of 15,000 undergraduate and graduate students from more than 135 nations. In teaching, scholarship and research, the College approaches justice as an applied art and science in service to society and as an ongoing conversation about fundamental human desires for fairness, equality and the rule of law.
Who was Gerald W. Lynch?
Gerald Weldon Lynch was the third president of John Jay College of Criminal Justice, the only institution of higher education in the United States dedicated primarily to the study of criminal justice. Dr. Lynch was born in Manhattan on March 24th, 1937. He served 28 years as president of John Jay College, which made him the college's longest-serving president. Dr. Lynch earned his bachelor's degree from Fordham University and a Doctorate in Clinical Psychology from NYU. In the mid-1960s he became a psychology professor at John Jay. In his years at John Jay, Dr. Lynch served multiple positions. First, he became the dean of students, then acting dean of faculty members, and eventually the acting president of John Jay after the resignation of President Donald Riddle in 1975. Lynch was officially sworn in as John Jay College president in March 1977, until he retired from the office in 2004.  During his presidency, John Jay doubled the enrollment from 7,000 to 14,000. He also established the first doctorate program in criminal justice in 1980. Lynch lectured throughout the United States, Middle East, Australia, Europe, Latin America, Africa, Asia, and even the former Soviet Union.
 Dr. Lynch played an essential role during CUNY fiscal crisis in 1976.  For his role during these years, he is known as the savior of John Jay. The City University of New York (CUNY), was forced by the mayor to cut nearly $100 million from its budget. The only way for CUNY to survive was to either shut down or merge the schools, and John Jay was going to be one of those schools. President Lynch stood up and opposed the plan. He enthusiastically encouraged hundreds of students to protest, and he was supported by high-profile people in politics and law enforcement. Dr. Lynch himself cut nearly $3 million with an austerity budget of his own to save the college. After a radical battle, The Board of Higher Education ended up merging with many of the other CUNY schools, but not John Jay. President Lynch's leadership and commitment helped John Jay College to grow and thrive.
 "A student at John Jay College in the 1980s, I was often amazed at President Lynch's uncanny ability to recognize many a student traversing the campuses between the 59th St. and 56th St. and how he would often stop, chat and take an active interest in their progress."

Adam Brill (Former John Jay Student)
Gerald W. Lynch and his legacy will never be forgotten.  It is the theater's honor to be named after him.