MUMMENSCHANZ The Musicians of Silence present you & me
July 4, 2018 @ 3:00 pm

-

4:30 pm

$29 – $85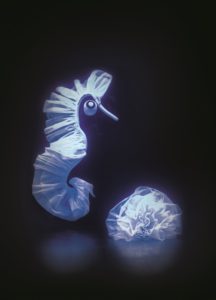 Mummenschanz, the renowned theatrical troupe known to fans around the world as "The Musicians of Silence," returns to New York this summer for the first time in nearly four years. The new show, "you & me," was created by Floriana Frassetto, co-founder of Mummenschanz. The show will feature some of the most popular sketches created and performed by the internationally renowned troupe, as well as brilliant new creations.
Mummenschanz conjures a magical world, full of possibilities, without uttering a word. The troupe's playful and memorable exploits display an enormously inventive use of forms, shadow and light as well as creative manipulation of sculptural, expressive masks and abstract shapes. The result is a visually stunning spectacle of entertainment that is suitable for the entire family to enjoy. Mummenschanz offers timeless insight on the human condition. The result transcends cultural barriers and sparks the imagination. The entire program of sculptural puppetry and visual antics is performed without music or sound.
"The 'stories' we tell are unique in that they have no sound or music and we hope that
our show will awaken the little child in everyone." – Co-founder and performer, Floriana Frassetto.