Seeing Rape 2020
Seeing Rape 2020
Four Video Installments!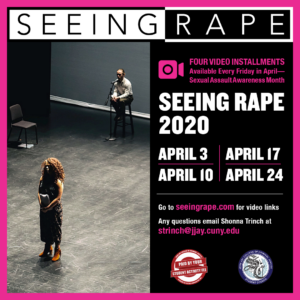 The Seeing Rape plays were scheduled to be performed at the Gerald W. Lynch Theater this week. Instead, the artists have found a way to bring these powerful performances to our audiences. The performances will be brought to you online through seeingrape.com. We hope you are doing well during this time and that you will tune in to these amazing pieces of work!
"Seeing Rape's mission is to eradicate rape and raise awareness about sexual violence through theater. Student-written plays from diverse writers, performed by professional actors, can start a meaningful dialogue. Theater can change people. Seeing Rape makes art in a radically inclusive way, treating all humans with dignity and respect."
Seeing Rape 2020: John Jay College student-playwrights create boundary-breaking theater around the subject of rape, consent, and gender roles. Performed with professional New York City actors.